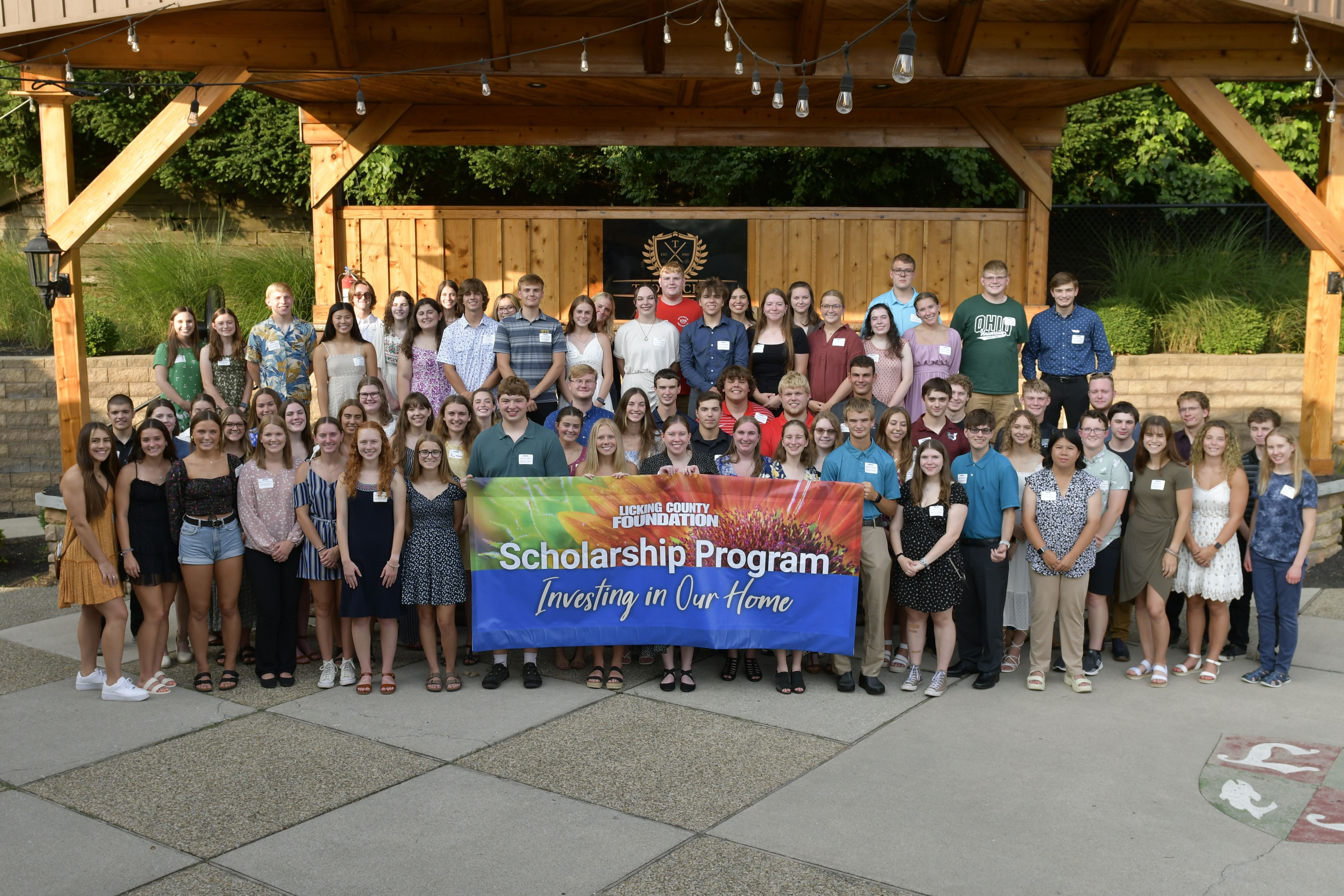 NEWARK ― Earlier this summer, local students found out that the Licking County Foundation has awarded them scholarships totaling nearly $1.5 million.
Donors, volunteers and scholarship recipients gathered with friends and family at the Trout Club in Newark to celebrate the Scholarship Program.
According to a press release, the Foundation made more than 400 offers totaling $1.37 million in scholarships and educational awards from donor funds created to assist area students pursuing undergraduate, professional, graduate, or training and technical degrees and certificates for the 2023-24 school year.
An additional $160,000 will be awarded from LCF scholarships established to assist students attending Ohio State University-Newark and Central Ohio Technical College, bringing the 2023 total to nearly $1.5 million. Awards ranged from $1,000 to $10,000.
A 91-member volunteer Scholarship Review Committee evaluated more than 6,200 applications submitted by a pool of nearly 800 students.
LCF President Connie Hawk noted the success of the program starts with donors.
"Donors – individuals or even sometimes organizations or businesses – start scholarship funds because they believe the future of our community depends upon a well-educated and experienced workforce," Hawk said. "They are passionate about creating access to education and training to prepare people for the next steps in their lives and careers. Our scholarships have helped thousands of Licking County residents."
Donors work with the Licking County Foundation staff to develop the goals and purpose for each scholarship, including criteria for selection that reflect the donor's wishes and intent.
The following is a list of scholarships awarded:
• John W. Alford Scholarship - Taylor Conaway, Sarah Ghiassi, Audra Lacy, Brooklyn Smith.
Click "Universal" in the eNewspaper
• Mary E. Alford PEO Chapter DL Scholarship - Amery Kvintus.
• Allen-Good-Wiley Scholarship - Sarah Moody
• Patricia O'Brien Armstrong Scholarship - Taylor Enright
• Larry, Jean, Mike, Tim and Darren Brandt Family Scholarship - Jenna Beebe, Nicholas Strauch
• Brinkerhoff Award - Laura Brubaker
• Robert Ernest, Virginia Woltjen Buckey and Scott Buckey Richards Memorial Scholarship - Morgan Layne, David Link, Caleb Payne, Evan Waddell, Emerson Wells
• Buddy Callicoat Memorial Scholarship - Olivia Pierce
• Camp O'Bannon Scholarship - Jaden Krause, John Strawn
• Austin Careins Memorial Award - Theo Walsh
• Chamberlain-Powers Memorial Mathematics Award - Jack Mantonya
• Coach Hardin/Coach Klontz Bulldogs Forever Scholarship - Brielle Keck, Xavier Matthews
• Tony B. Crisp Memorial Scholarship for the Perf. Arts - Carter Russ
• Davis Family Scholarship - Brendon Austin, Reese Callan, Emma Carlson, Kyleigh Clark, Hanna Clark, Avan Dunn, Afia Fosu, Camille Fuller, Abigail Gabe, Shala Graham, Shelby Heist, Olivia Howard, Austin Masters, Rylee Parkinson, Kylie Sopher
• Grace Dils Memorial Scholarship - Alaina Close
• Marcia W. Downes Scholarship for A Call To College - Joseph Schorger
• Beth Barton Eckels Memorial Scholarship - Abigail Twaddell
• Dick and Clara Francis Scholarship - McKenna Broyles, Zane Burke, Maxwell Burton, Job Busic, Anna Chapman, Katherine Chittum, Kalene Close, Haley Cook, Zeena Culbertson, Jacob Elam, Emma Garee, Kiera Geiger, Lauren Riggleman, Caroline Sedor
• Nathaniel James Gard Memorial Scholarship - Iana Byrd, Nevaeh Ritterbeck
• The Pam and Dave Froelich Crimson Frog Educational Award - Owen Poole
• Chief Jim Glover Memorial Scholarship - Brody Booher
• Granville Garden Club Scholarship - Grady Galbreath
• Guthrie-Hoover Scholarship - Jonah Ball, Alexandra Cannone, Grady Galbreath, Mia Grezlik
• Hanover-Toboso/Licking Valley Alumni Association Scholarship - Allie Judd, Brenden Moore
• Letha P. Headlee Licking County Retired Teachers Association Scholarship - Lillian Brooks, William Carpenter, Connor Fee, Alicia Graham, Emily Lipscomb, Alysha Wallace
• Heath Education Foundation Scholarship - Abigail Ewing
• Richard K. and Ione D. Hill Scholarship - Kathryn Branstool, Moriah Fleming, Rachel Jurich, Tryphena Sarpong, Ashley Villa, Rachael Wirth, Alaina Wycuff
• Maxine and Diane Hite Scholarship - Nathaniel Streby, Sydney Wuertzer
• John A., Betty J. and Linda Ann Hoover Scholarship - Aubrey Barger, Spencer Bowman, Violet Caton, Alexis Crawford, Kelebrant Hays, Mikayla Holtz, Emma Keyse, Samuel Lepley, Alexandra Mazik, Charles Meadows III, Carson Miller, Ciara Murphy, Kaitlyn Nash, Casey Oakleaf, Gabriella Pound, Emilee Redfern, Ethan Strauch, Jeremy Stuller, Grace Thompson Oswalt
• Kayla N. Hurst Memorial Scholarship - Megan Austin, Megan Rosengarten, Ava Wandersleben
• Wilbur and June Staggers Jenkins Scholarship - Brandon Bishop, Sage Chesser, Makynzie Claypool, Evan Fee, Ian Gant, Ethan Hersey, Nathaniel Higgins, Brayden Kaufman, Makayla Kelly, Elijah Kyle, Emily McCullough, Kristen Minton, Erin Montgomery, Faith Ricket, Abigail Scott
• C. Vernon Johnston Scholarship - Alliyah Brooks, Shelby Nieves
• Kenneth Johnston Scholarship - Madeline Bethards
• Robert D. and Janet Schultz Jones Scholarship - Ryleigh Jones, Christopher Leimgruber, Fallon Pitts, Madeline Vogelmeier
• George and Louise Kinsey Memorial Scholarship - Natalee Breckenridge, Karlee Clark
• Lechner-Holsinger Scholarship - Chloe Hamilton
• Julius F. and Beula C. Lenz Scholarship - Lane Goetz, Gracyn Gullifer, Michael Hardesty, Dayavionne King, Jackson Knerr, Lillian Miles, Izabella Orr, Isaiah Rush, Isaac Rush, Austin Rush, Jaiden Stratton
• Licking County Bar Association Scholarship - Luke Doyle
• Licking County Bar Association Law School Scholarship - Kalene Close
• Licking County NAACP Scholarship - Jenna Shackleford
• Licking Heights Alumni Association Scholarship - Samantha Coe, Matthew Lammers
• Licking Heights Alumni Association Skilled Trades Award - Alexandra Spence
• Charlene Litterini Memorial Scholarship - Faith Campbell, Taylor Goodin, Cameron Neil, Noah Risdon
• Jared Dean Lowery Scholarship - Caleb Payne
• Floyd A. Mahard and Alberta W. Mahard Scholarship - Austin Combs, Justin Flora, Kora Garee, Calvin Hurt, Sophie Lossing, Nicholas Novotny, John Platt, James Robinson, Abby Rudduck, James Thomson
• Larry G. and Geraldine D. Marston Scholarship - Shelby Autherson, Hailee Brown, Carlie Parsons, Brianne Priest, Holly Skinner
• Diane Kay Martin Memorial Scholarship - Zane Ramsey
• Mazzone Family Scholarship - Makenna Wiley
• Edgar W. and Phyllis L. McCauley Scholarship - Carly Householder, Nathan Hughes, Kevyn Neil, Henry Pausch, Molly Rudduck
• Carl and Maybelle McKee Math Award - Zane Burke
• Carl and Maybelle McKee Nursing Scholarship - Elise Adelman, Hannah Cook, Kaylee DeBevoise, Katelyn Kazee, Katherine Morehouse, Elijah Morris, Julia Patton, Ella Porterfield, Amber Ritchey, Carley Schmidt, Marie Weis, Carter Wickham
• Joseph P. McMahon Scholarship - Rachel Bollo, Charles Britton, Andrew Carr, Michaela Carter, Julie Haley, Zachary Lammers, Hannah Mohler, Dylan Niedermeyer, Rose Pasqualetti, Gabrielle Pastorius, Avery Spiker, Theo Walsh, Meghan Yeagle
• Phoebe C. McMahon Scholarship - Cole Boroff, Sarah Davis, Carson Gano, Rowan Jackson, Avery Koester, Jonathan Marty, Cassalyn Orr, Ella Pegher, Seth Phelps, Aaliyah Roark, Lanie Schott
• Perry L. Miles Scholarship - Bryce Isler, Adalynn Triplett
• Miller Elementary School PTO and Thelma Bounds Scholarships - Caroline Sedor, Alexandra Webb
• Irma H. Morrow Memorial Scholarship - Hannah Rockwell
• Herbert J. Murphy Jr. Building Trades Award - Wyatt Conley
• My Brother's Garden Keeper Educational Award - Andrew Brett
• Newark High School Class of 1951 Scholarship - Brian Blevins, Katie Smith, Elizabeth Wright
• Newark High School Class of 1953 Scholarship - Cruz Baker, Isaiah Potter
• NHS Varsity Volleyball "PASS IT ON" Ghiloni Educational Award - Avery Reagan
• Steven T. O'Neill Scholarship Partnering Education & Employment - Lauren Aamodt, Emily Bates, Lindsay Drumm, Georgia Gamble, Michaela Hanger, Siarra Hoover, Benjamin Kozlowski, Sydney Mason, Corey McCarty, Anna Mialky, Sophia Mitton-Fry, Sarah Reen, Isabella Marie Rodgers, Ryan Schmechel, Kathryn Selfe, Katherine Slayman
• Oyler Agrarian Scholarship - Alayna Crawford, Morgan Thompson
• Raymond H. and Beryl Dean Penick Memorial Scholarship - Jayden Alexander, Elisabeth Arnold, Christian Arruda, , Patrick Beharry, Henry Bell, Jill Blacksten, Trina Boley, Amelia Bone, Aidan Bowman, Clara Britton, Jonathan Brower, Joseph Brower, Riley Bunstine, Josie Bunstine, Madison Cartnal, Lauren Chadock, Emma Chapman, Noah Charlton, Joshua Cook, Alayna Curran, Kenneth Davenport, Ainsley Decker, Carrie Dietz.
Taylor Enright, Alexandra Farnsworth, Kennedy Firth, Annabel Fish, Kwasi Fosu, Craig Fouts, Olivia Garee, Hannah Gero, William Gilbert, Brianna Gullett, Perrianna Haga, Nicholas Harvey, Victoria Harvey, Andrew Harvey, Elizabeth Hedger, Lindey Helwagen, Marykate Hill, Grant Hoff, Ella Hoover, Kenzie Householder, Mia Hyme, Aidan Isler, Jaylen Jackson, Braden Kim, Story Laing, Jesse Lau, Augustine Lemert, Mya Lepley, Emily Manning, Ava Markham, Camryn Martindale, Hallie Meadows, Clare Mialky.
Parker Miconi, Seth Mitchell, Anya Mitton-Fry, Macey Myers, Logan Nethers, Hunter Nickell, Elizabeth Ohl, Ryan Ostrander, Allissa Pfister, Jarrett Pfister, Brynley Platt, Tatum Poulton, Celia Powers, Lacey Purvis, Holly Purvis, Mary Quick, Jack Rehbeck, Aevian Ricketts, Abigail Ruffle, Abigail Sanders, Sydney Sapp, Cole Scarborough, Aiden Schmoll.
Jeremy Schweiger, Julieta Schworm, Claire Shank, Graham Shoaps, Zachary Shrewsberry, Anna Singh, Kenneth Sloan, Samuel Smith, Audrey Sturgeon, Darya Sulkouskaya, Cormac Thress, Brayden Tosi, Christopher Vadala, Ava Vadala, Connor Veal, Colin Voorhis, Dylan Wells, Katie Wilkens, Jonah Williamson, Danielle Wydick, Jin Yang, Steven Zurawick
• STEMfest Awards from the Raymond H. and Beryl Dean Penick Memorial Scholarship Fund - Gavin Bell, Amelia Bone, Xander Dalke, Kennedy Firth, Antony Goldenberg, Bryan Harms, Zachary Hinderlong, Mitchell Mazzone, Storm Negele, Cole Scarborough, Madison Thomas, Elizabeth Wright, Steven Zurawick
• Thelma E. and Francis J. Rauch Scholarship - Ellie Boggs
• Hubert and Oese Robinson Culinary Scholarship - Hailie Drake
• Hubert and Oese Robinson History Scholarship - Henry Mills
• Ross Moran Family Nursing Education Scholarship - Alyson Allberry, Ashley Clouse, Trinity Harmon, Rylee Higgenbotham, Sarah Selfinger, Cheyanne Williams
• Dale E. and Virginia D. Roth Medical and Nursing Scholarship - Alyssa Angus, Allyson Carr, Amelianna Conigy, Abigaile Davies, Alison Hottle, Ella Johnson, Carlyanne Mayer, Brooklyn Shonebarger
• Anne Owens Seidel Scholarship - Anna Belt
• Walter Seidel Scholarship - Annabel Fish
• Noble and Kathleen Snow Scholarship - Lily Gulley, Bryn Womer
• Anna E. McCullough Tharp Award - Ivana Arsovska
• Alethea E. Sleight P.E.O. Chapter DL Scholarship - Allison Dietz, Alasandra Spears
• TrueCore Federal Credit Union Scholarship - Allison Burgess, Reagan Campbell
• Mary E. and Robert E. Turner Scholarship - Brianna Gullett
• Richard and Sally Uhde STEM Scholarship - Bladen Siu
• Universal Veneer Scholarship - Spencer Showalter
• Robert N. Watts and Martha Jane Watts Culinary Arts Award - Kaiden Keaser
• Alfred Wells Scholarship - Sadie Holman
• B. David Whiteman Newark Kiwanis Scholarship - Makenzie Adams, Nicholas Richards
• Williams Memorial Scholarship - Gwendolyn Blasco, Ashley Burgess, Olivia Carnevale, Lindsey Castillo, Rylan Celajes, Madeline Daugherty, Joshua Hare, Mitchell Mazzone, Brendan Nash, Drew Oberholtzer, Olivia Perry, Avery Reagan, Syncere Royster, Reagan Sands, Alexa Schwabe, Lillian Six, Benjamin Smith, Chayse Topy, Lauren Tucker, Abigail Warner, Carolyn Williams
• Ralph S. Wyeth Scholarship - Mackenzie Blume, Brody Booher, Chloe Campbell, Anthony Franks, Kaylyn Hopf, Camryn Mauter, Olivia Pierce, Amanda Shults, H. Luke Swearingen, Anabela Vivero, Alexandra Webb, Hannah Yantis.