LICKING COUNTY FOUNDATION GRANTS BOOST COMMUNITY ORGANIZATIONS WITH $1.9 MILLION IN FIRST HALF OF 2021
Posted on 08/03/2021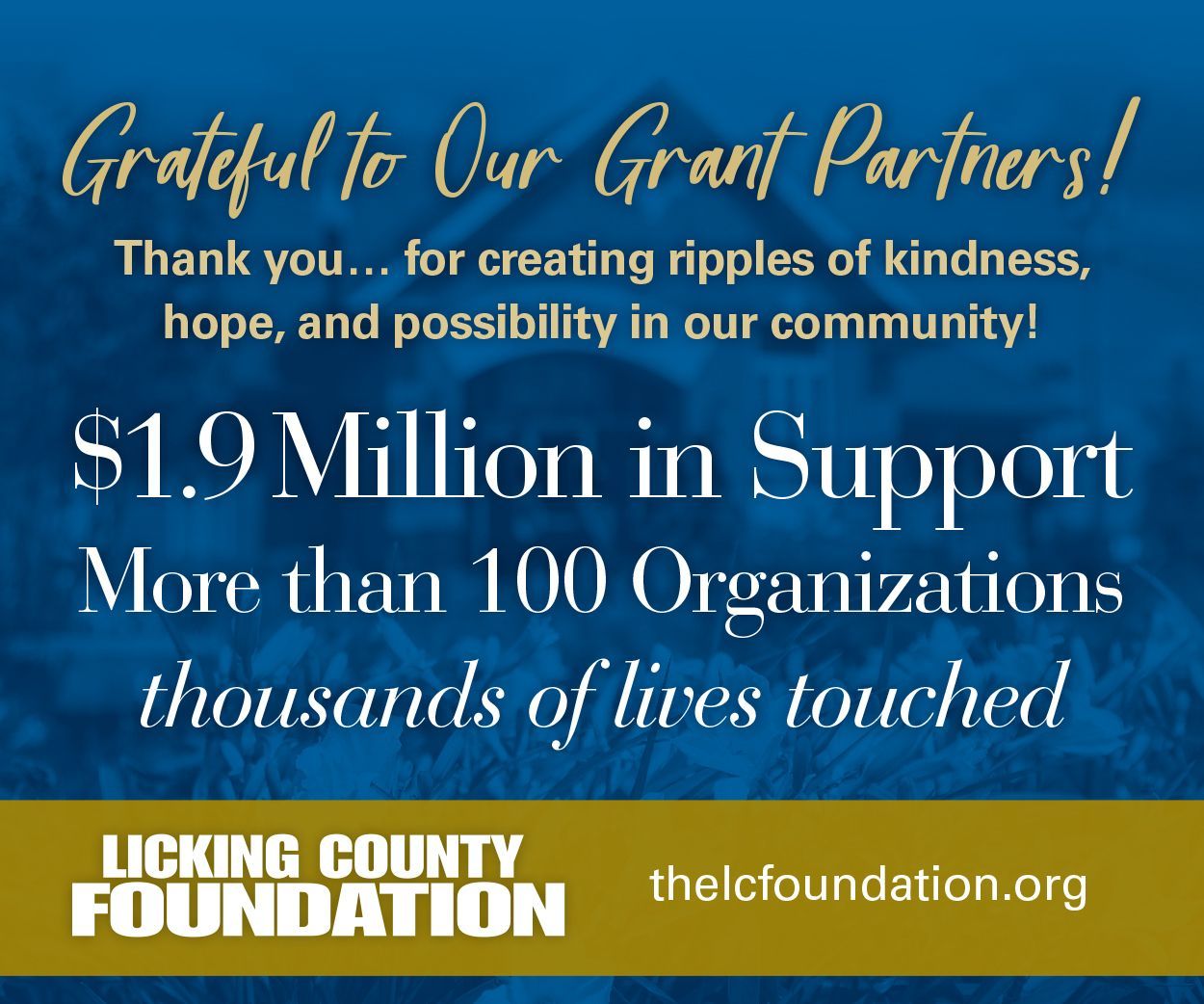 Local organizations and programs serving Licking County residents have received more than $1.9 million in grants since January from the Licking County Foundation to help meet needs across the community.
The largest portion of grants to date were made through designated agency funds established by donors to support specific causes. Donor advised and community charitable fund grants, agency fund grants, and strategic grants (supported by unrestricted and field of interest funds) account for the remainder.
"The Foundation's ability to issue these grants affirms not only that we have a strong and resilient nonprofit community, but also that Licking County residents are incredibly kind and generous," notes Connie Hawk, Director of the Licking County Foundation. "These grants honor the wishes of our donors. The partnership between our donors and our incredible, hard-working nonprofit organizations is what creates positive change in our community."
Lessons of 2020
Hawk noted that throughout 2020 during the COVID-19 emergency, Licking County Foundation remained close to the nonprofit community to help ensure basic human needs were being met. Regular virtual meetings with nonprofit leaders and a survey conducted in July provided data to understand how Licking County organizations were fairing. In September 2020, Licking County Commissioners asked the Foundation to help distribute Federal CARES Act dollars to nonprofit organizations, requiring substantial due diligence of recipient organizations.
Equipped with recent substantial knowledge of Licking County nonprofit organizations as well as their operations and funding challenges, and the desire to reduce the burden on grantees, Licking County Foundation made the decision in May to disburse strategic grants to 58 nonprofit organizations based on continued need, additional information gathered from the nonprofit community, and previous experience.  
"Licking County Foundation has been learning with our peers in the philanthropic sector how philanthropy can best provide support to the nonprofits that make our community a better place," says Hawk.  "In order to align our grantmaking with the greatest needs in the community, we are providing one-time, six-month grants to address a wide array of needs at this time. These grants will enable organizations to continue providing vital services while their service and business models recover from the pandemic."
"The number of grants we have made so far this year is a record for Licking County Foundation," says Hawk, who joined the Foundation as director in 2007.  "Many of these organizations have been our partners year in and year out for decades – but others were groups we worked with for the first time in the last year.  All are changing lives, and we are proud to celebrate them and support their vital hard work."
The Licking County Foundation will continue to make strategic and other grants for the remainder of 2021, and plans to issue an announcement on its 2022 grant program later this summer. More information will be available on the Foundation's website at www.thelcfoundation./grants.
The following local organizations benefitting Licking County residents received grants from the Foundation from January through July 15, 2021:
A Call To College
A Special Wish Foundation - Newark Chapter
American Red Cross
Athletics Baseball Association
Behavioral Healthcare Partners of Central Ohio,  
   Inc.
Big Brothers Big Sisters of Licking & Perry   
   Counties
Boys & Girls Club of Central Ohio, Inc.
Boys & Girls Club of Newark
Brandon Baptist Church
Buckeye Valley Family YMCA
Camp O'Bannon of Licking County, Inc.
Canal Market District and Enterprise Hub
CDF Freedom Schools of Licking County
Center for Disability Services
Central Ohio Technical College
City of Newark
City of Newark, Division of Fire / EMS
Columbus Council on World Affairs
Crossroads Crusaders
Croton Church of Christ
Croton United Methodist Church
Denison University
Explore Licking County
First United Methodist Church
Fostering Further
Foundation for Hospice of Central Ohio
Friends of the Licking County Library, Inc.
Granville Police Department
Greater Buckeye Lake Historical Society
Habitat for Humanity MidOhio
Hartford Library Association
Heartbeats for Life
Hebron New Life United Methodist Church, for
   the New Life Baby Pantry
Hospice of Central Ohio
I Am Boundless, Inc.
Kingdom Pillars
Lakewood Local Schools
Licking County Aging Program
Licking County Alcoholism Prevention Program
Licking County Board of Developmental
   Disabilities
Licking County Champions Network
Licking County Coalition for Housing
Licking County Coalition of Care
Licking County Community Center for 60+
   Adults
Licking County Community Health Care
Licking County Health Department
Licking County Historical Society
Licking County Humane Society
Licking County Jail Ministries, for Vertical 196
Licking County Library
Licking County Players
Licking Memorial Health Foundation
Licking Memorial Hospital
Licking Park District
Licking/Knox Goodwill Industries
Look Up Ministries
Mental Health America of Licking County, Inc.
Mid-Ohio Food Bank
Nationwide Children's Hospital Foundation
Newark Campus Development Fund
Newark Catholic High School
Newark Central Christian Church
Newark Citizen Police Academy
Newark City Schools
Newark Development Partners
Newark Midland Theatre Association
Newark Organization for the Creative Arts
   (NOCA)
Newark Police Department
Newark Sport and Event Commission
Newark-Granville Symphony Orchestra
Newborns in Need - Greater Newark, Ohio
   Chapter
North Fork Local School District
Ohio State Legal Services Association
The Ohio State University Foundation
OhioCAN (Change Addiction Now) for Newark    
   Homeless Outreach
Pathways of Central Ohio
Par Excellence Academy
Pataskala Community Outreach
Ronald McDonald House Charities of Central
   Ohio
Second Presbyterian Church
Serenity Street Foundation
Simon Kenton Council, Boy Scouts of America
  Spring Hills Baptist Church
St. Francis de Sales School
St. Vincent de Paul Housing Facilities, Inc.
Starfish Assignment Licking County
The Dawes Arboretum
The Food Pantry Network of Licking County
The Ohio State University at Newark
The Salvation Army
The Turban Project
The Woodlands Serving Central Ohio, Inc.
The Works: Ohio Center for History, Art &
   Technology
Together We Grow Inc.
Trinity Episcopal Church
United Way of Licking County
Village of Hebron
Walking Wild Rescue, Inc.
Weathervane Playhouse
West Licking Special Olympics
Whole Living Recovery
Wyatt Adkins Heart Organization