LCF Donor Profile: K-9 Officer Bernie Frey
Posted on 10/23/2019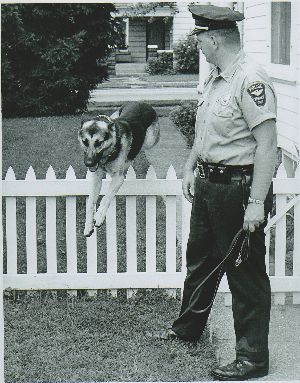 Five decades ago, Bernard (Bernie) Frey helped change the face of law enforcement in our community as the first K-9 officer for the Newark Police Department. In the mid-1960s Bernard started his police career with a provisional appointment, receiving permanent appointment July 13, 1968. He was the first K-9 handler in 1969, establishing Newark as Ohio's fourth K-9 unit. This unit was developed and primarily funded by the Licking River Kennel Club thanks to the efforts of Mrs. Dale Scholes. Bernie's dogs participated in K-9 events and won ribbons at many regional and national competitions. The dogs were first trained by Bernie with the assistance of his brother Dennis, and Officer Bob White, who had previous expertise with police K-9s. Bernie's dedication to training resulted in his dogs being certified by the American Kennel Club. During his career, he won several awards, including Police Officer of the Year. The K-9 unit proved to be wonderful publicity for the police and Newark. Bernie regularly performed demonstrations for schools and other special events, he also helped develop a special coloring book that was distributed to students.  He and his dogs were often requested in other jurisdictions for search and rescues, riot control, along with training and development of their K-9 units. After Bernie's retirement in 1992, he continued to donate his time to support the next generation of K-9 handlers in Newark. Bernie is listed with the Ohio K-9 Memorial.
Influenced by his brother's service, Dennis Frey joined the NPD in the early 1980s, earning the rank of sergeant before retiring in 2007. To honor his brother's commitment and years of service to his hometown, Dennis established the K-9 Bernie Frey and Sergeant Dennis Frey Police Equipment Grant to provide funds for acquiring dogs for police work, finance specialized training, or to purchase equipment that will enrich police agencies serving communities of Licking County.
As this year marks the 50th anniversary of the K-9 unit, Dennis shared, "This fund is a way to keep Bernie's legacy alive and help local jurisdictions. Budgets are tight and local agencies can always use assistance."
During his time of service, Officer Frey worked with three police dogs:  Shep, Shadow, and Blitz. Pictured above is K-9 Officer Bernard Frey and Shep.