Licking County Library Fund Created in Honor of Longtime Board Member
Posted on 02/12/2018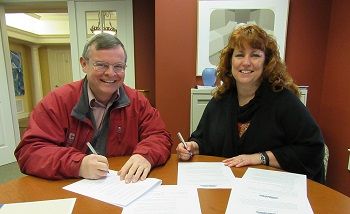 We were happy start our morning with a visit from the Licking County Library. Board President Thaddeus Claggett and Director Babette Wofter stopped by our office to sign the fund agreement for the Licking County Library Fund, a new charitable fund being establishing at the Foundation.
Established through a gift from Southgate Corporation in honor of longtime employee Marty Morrison, the Licking County Library Fund will provide continuous, permanent support to the Licking County Library.
Martha J. Morrison, better known as Marty, served the Licking County Library board for nearly 20 years. Marty's love of books and reading was instilled at an early age when her mother volunteered on Saturday afternoons at the Hebron Library. Marty served as the chair of the Finance Committee and was meticulous not only with details of the financials but also the board minutes. She was pleased to be on the board during the construction of the new Main Library located at 101 West Main Street in downtown Newark and for the Emerson R. Miller renovation in 2011.
The Foundation is proud to partner with the Licking County Library as they continue to serve our community of lifelong learners with innovative, inspiring and fun learning experiences long into the future!