Bill Weidaw Recognized with Everett D. Reese Award
Posted on 11/17/2017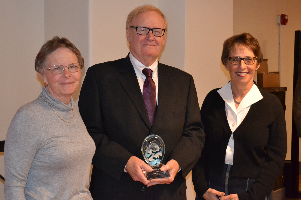 The annual meeting of the Licking County Foundation was held recently to celebrate generosity in our community at the NEWORK Space. A highlight of the event was the presentation of the Everett D. Reese Award to William W. Weidaw for his continuous, compassionate service to improve lives in this community; and investing his time, treasure and talent in the home he loves. The award was presented by Everett Reese's granddaughter, Sarah Reese Wallace. Humble in nature, during his remarks, Bill gave all of the credit to the people he has associated himself with, including visionaries like Lou Mitchell, Jane McConnell, and Howard LeFevre. He also thanked his firm, Wilson, Shannon and Snow, Inc., for supporting his community endeavors for the past 38 years. In closing, Bill Weidaw encouraged the audience of area donors and leaders, "Please don't ever forget what a special community this is and keep giving back to it however you can."
The Everett D. Reese Award was established in 1996 to celebrate philanthropy in our community in the spirit and memory of Everett D. Reese, the founder of Licking County Foundation. The purpose of this award is to recognize individuals like Bill Weidaw who have led their lives in the spirit of Everett Reese's sincere and often-repeated invitation, "Let me know if I can do anything for you." The Foundation's Director Connie Hawk said, "We are grateful for kind people like Bill Weidaw for his many years of dedicated service. His efforts will certainly continue to encourage others and enrich our community far into the future."
William Weidaw is a lifelong Licking County resident who calls Newark home. After graduating from Newark High School in 1966, Bill pursued a bachelor's degree in Business Administration at Ohio University in Athens, Ohio. After graduating cum laude from Ohio University in 1970, Bill went on to study law at The Ohio State University College of Law. Bill received a juris doctor degree in 1973. In addition, he became a Certified Public Accountant in 1975. Bill worked at Ernst & Ernst in Cleveland for several years before returning home to Newark in 1976. Bill settled in Newark with his wife Jan, where they raised their two sons. He has worked at Wilson, Shannon & Snow Inc. since 1979, and has been a partner at the firm since 1981.
Bill is a member of several professional organizations, including the American Institute of Certified Public Accounts, the Ohio Society of Certified Public Accountants, and the Ohio State Bar Association. He is also a past President of the Licking County Bar Association. In addition to these organizations, Bill is extremely involved in the community. He is the Treasurer of both A Call to College and The LeFevre Foundation. He also serves on the Executive and Finance Committees of The Works: Ohio Center for History, Art & Technology. Bill lent his time and talent to levy campaigns for Newark City Schools from 1994 to 2014.
Pictured left to right: Jan Weidaw, wife of William Weidaw; William Weidaw; Sarah Reese Wallace, granddaughter of Everett D. Reese. William W. Weidaw was recognized for his continuous and many philanthropic contributions with the Everett D. Reese Award presented by Sarah Reese Wallace.
About the Licking County Foundation…Investing in Our Home
The Licking County Foundation helps people leave a lasting legacy to the community. We are many causes and generous donors with one common desire: to improve the lives of the people in our own backyard. Established over 60 years ago, the Foundation has grown to more than $90 million in assets through generations of gifts made by compassionate donors. Investing in our home has changed the lives of countless people by providing resources to a neighbor in need, helping a student achieve their dream of college, enhancing the beauty of our parks, supplying books to encourage an early love of reading, and much more. To find out how we can help turn your compassion into action: 740-349-3863 or visit www.thelcfoundation.org.