Park National Bank Finds The Louis Sullivan Building of Newark, Ohio Restoration Worthy of Support
Posted on 08/28/2017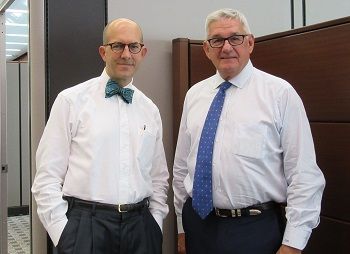 Park National Bank prides itself on a long standing mission of community philanthropy that dates back generations. Former president John Alford advocated the idea that if you take care of the community, the community will take care of you. This is a vision that that both Park National president, David Trautman, and chairman, Dan DeLawder, are dedicated to carrying out in Licking County today. "When I first came to the bank, Mr. Alford was very quick to point out that we can only be as strong as the community. If we hope to grow and do well, we need to support the community," said DeLawder.
Park National Bank frequently supports numerous organizations in Licking County dedicated to improving the lives of those in our community and have been longtime supporters of the Licking County Foundation. Mr. DeLawder, a native of Licking County, understands the needs of our community and has witnessed firsthand the changes taking place over recent years. "When we contribute time, talent and treasure, we can literally see the direct benefit that those organizations receive from our contributions," said DeLawder.
One particular Licking County Foundation project that Park National Bank has offered support for is the restoration of the Louis Sullivan Building in downtown Newark. The Sullivan Building was built in 1914 as The Home Building Association Company and has housed many downtown businesses over the past century. One of only eight banks designed by noted American architect, Louis Sullivan, it is both a national treasure and a treasured piece of Central Ohio's heritage. In 2013, the building was generously gifted to the Licking County Foundation. Since early 2014, the Licking County Foundation and a team of community volunteers have been working to develop a plan for the Louis Sullivan Building of Newark's restoration and reuse. The vision has always been to create a valuable space that is financially self-sustaining and open for the public to enjoy. When the restoration is complete, Explore Licking County, the county's convention and visitor's bureau, will call the Sullivan Building home. Park National Bank president, David Trautman, and his colleagues immediately offered their support in preserving the historic "jewel box" bank. "The Louis Sullivan Building is beauty. The world doesn't have enough beauty and where beauty has been, we need to help it rekindle," said Trautman. DeLawder and Trautman both hope that the Sullivan Building will provide a community gathering place for both residents and tourists hoping to learn more about the many opportunities that Licking County has to offer. "Newark is over 200 years old, and I think that it's important that we preserve our history and that we preserve the foundation of this community so that others can enjoy can enjoy it in future generations," said DeLawder.