Tibbie Leslie Travel Grants Will Help Five Area Teachers Travel the World in 2017
Posted on 03/16/2017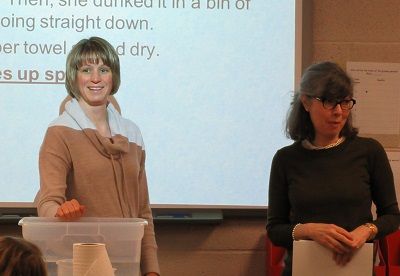 The Governing Committee of the Licking County Foundation recently approved $9,900 in Tibbie Leslie Travel Grants for travel across Europe, Martinique and Guadeloupe by five area educators. These grants were awarded to teachers who plan foreign travel to broaden their experience and knowledge in their particular field of interest. They were also selected for their commitment to bringing the world back to their classrooms in the true spirit of the award's donor, Tibbie Leslie—a Newark native who traveled the world throughout her 30-year teaching career. Since 1999, the Tibbie Leslie Fund has provided over $170,000 in travel grants to 87 area educators. This year's grant recipients are:
Ken Fehrman
School District: C-TEC
School: C-TEC High School
Courses Being Taught: English 11 and English 12
Primary Travel Destination: Sweden, Norway, Germany, and the Netherlands
Classroom Benefit: As an English teacher, Mr. Fehrman emphasizes the students' abilities to be open to new ideas and experiences and to be mindful of their perspectives with reading, or dealing with anyone's ideas. Sometimes those experiences are only in a book, are dealing with other people, or they are out in the world. He has never been out of the country and looks for this experience to enrich his life, help provide him with a broadening perspective of the world, and to expand his perception of students' lives and experiences. Living within another's culture, no matter how brief a time, will allow Mr. Fehrman to experience the culture from a holistic perspective; physically, mentally and emotionally, which will expand his ability to bring this culture back into the classroom and provide a depth to his teaching that has not been present before.
Leigh Anne Fickes
School District: Licking Valley Local
School: Licking Valley Middle School
Courses Being Taught: 8th Grade Earth Science
Primary Travel Destination: Iceland
Classroom Benefit: The most obvious connection for an Iceland trip to Ms. Fickes's teaching is plate tectonics and the volcanic segment of the rock cycle. Another important piece is environmental science as it relates to energy resources and the connection to global warming. Many of her students have not traveled out of Ohio. Ms. Fickes intends to add a level of engagement to the classroom for students by sharing her personal stories; and she also hopes it creates a spark for students to travel as adults, because she believes there is no replacement for being somewhere in-person.
Ann Hinkle
School District: Newark City Schools
School: Wilson Middle School
Courses Being Taught: 7th Grade Social Studies
Primary Travel Destination: Scotland
Classroom Benefit: As a teacher of Ancient European Civilizations who has never traveled to Europe, this trip will impact Ms. Hinkle's teaching from the start of the school year until the very end. She will be able to answer students' questions with first-hand accounts of the subject matter and have personal pictures and artifacts for them to physically hold. Additionally, being able to stay at the home of a real lifelong resident of Scotland is the most amazing part of the journey to bring back to her students.
Jane Ludwig
School District: Granville Exempted Village Schools
School: Granville Elementary School
Courses Being Taught: 3rd Grade Reading, Writing, Math, Science, Social Studies and Global Education; Global Education Chairperson/Advisor for GES; Global Education District Liaison
Primary Travel Destination: Italy, Switzerland, and Spain
Classroom Benefit: During her travels, Ms. Ludwig will have multiple opportunities to observe foreign schools and teachers. Additionally, museum visits, city tours, and seeing sights within her various destinations, learning new languages, trying new foods and experiencing a different way of life will give her first-hand experiences to share with her students upon her return. As the Global Education Chairperson/Director for her school, Ms. Ludwig will have these added resources and experiences to share with staff and the district to encourage global education as an integrated part of the curriculum.
Yvonne-Marie Mokam
School: Denison University
Courses Being Taught: Language, Culture, and Literature courses
Primary Travel Destination: Fort-de-France (Martinique) and Pointe-a- Pitre (Guadeloupe)
Classroom Benefit: As a French professor, Ms. Mokam's area of expertise is mostly Francophone Sub-Saharan Africa. This trip would allow her to broaden her understanding of the French influence from the perspective of slavery in the Caribbean. She plans to create a new course on the question of francophone identity; of particular interest will be to explore what it means to be French for Black Caribbeans.
Photo: Leigh Ann Fickes (left) is surprised with a grant to fund her trip to Iceland, presented by Connie Hawk, Director of Licking County Foundation (right).
About the Tibbie Leslie Fund
Elizabeth Randolph Leslie, known as Tibbie, was raised in Newark, Ohio. She graduated from Newark High School in 1950 and from Miami University in 1954. Ms. Leslie taught physical education at Withrow High School in Cincinnati for 30 years. She was also a swimming instructor. Ms. Leslie was known for encouraging young people in their endeavors. A colleague said, "Her rapport with the students was good. She liked to have fun." Every summer, she returned to Newark to visit her family then left for a trip abroad. She traveled extensively with a group of educators; going to Europe, South America, Russia, China (three times), Japan, Africa, and many other exotic places. Her learning experiences on these trips were so meaningful that she decided to help other teachers travel. One of her friends said, "She loved the scenery, loved the people and loved to barter…she liked to be part of the action." Ms. Leslie died in 1995 at age 63. She established the Tibbie Leslie Fund in the Licking County Foundation through her will. Since 1999, the Tibbie Leslie Fund has provided over $170,000 in travel grants to 87 area educators.
Applying for Travel Grants
The next cycle of Tibbie Leslie Travel Grant applications will be due in Fall 2017. To learn more information, please visit our website at www.thelcfoundation.org or call Amy Dell, Program Officer, at 740.349.3863 x108.
About the Licking County Foundation…Investing in Our Home
The Licking County Foundation helps people leave a lasting legacy to the community. We are many causes and generous donors with one common desire: to improve the lives of the people in our own backyard. Established over 60 years ago, the Foundation has grown to more than $90 million in assets through generations of gifts made by compassionate donors. Investing in our home has changed the lives of countless people by providing resources to a neighbor in need, helping a student achieve their dream of college, enhancing the beauty of our parks, supplying books to encourage an early love of reading, and much more. To find out how we can help turn your compassion into action: 740-349-3863 or visit www.thelcfoundation.org.