Licking County Foundation Approves $1,342,598 in Grants to Nonprofits
Posted on 03/01/2017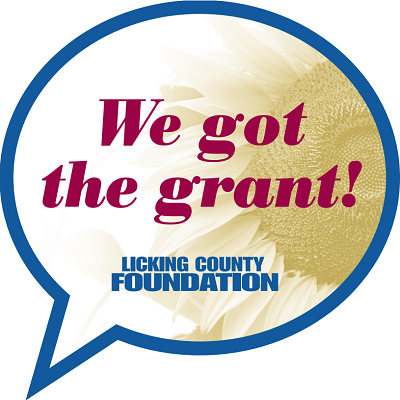 The Governing Committee of the Licking County Foundation recently approved $1,342,598 in grants to nonprofit organizations through unrestricted, field of interest, designated agency and agency funds. Since 1956, the Licking County Foundation has awarded over $47 million in grants and scholarships to dedicated nonprofits and deserving students through generations of gifts made by caring donors.
Jeff Cox, Chairman of the Licking County Foundation's Governing Committee, said, "We're inspired by the generosity of our donors who made these grants possible. We're also inspired by the dedication of our nonprofit grant partners who help residents of all ages live happy, healthy and hopeful lives. Both of these efforts are essential to creating a positive future for our community." The organizations receiving these grants are listed as follows.
Community Grants
Each year, the Licking County Foundation accepts proposals from area nonprofit organizations as part of a competitive grantmaking process to respond to new programs, emerging needs, and innovative services that might not be started or continue were it not for the Foundation's support.
$579,781 in grants were awarded to 27 local nonprofit organizations through unrestricted and field of interest funds. These funds were established by compassionate donors to allow the Foundation flexibility in responding to the community's most pressing needs and taking advantage of the best opportunities. All grant recipients are organizations that serve Licking County residents.
In 2017, these grants will support a wide variety of activities benefiting citizens of all ages, with focus given to projects or programs that provide services for underserved youth and families, including preventive and emergency dental and vision care; advocacy for child victims of violence; positive mentorship and development programs for youth; and emergency assistance for basic needs. The 2017 Community Grant Program will support organizations and programs in the following categories: children and families (26%), food and shelter (22%), arts and culture (19%), health/well-being (11%), parks and recreation (11%), senior citizens (7%) and animals (4%). Summaries of recipient organization projects grants are as follows:
Canal Market District and Enterprise Hub: $25,000 to support the creation of the Canal Enterprise Hub for making local food sustainable for local farmers, businesses and the community. The Enterprise Hub will focus on sourcing food from Licking County farmers first, and then the central Ohio region; and wholesale partners will be Licking County institutions and businesses. The next critical phase will be spent planning, recruiting additional partners and farmers, and raising capital to transform a vacant warehouse in Newark into a usable facility. Granted from the Unrestricted Fund.
Catholic Social Services: $10,000 to support the Supportive Services Program in Licking County, which provides intensive case management services to assist older adults to maintain their highest level of functioning while living independently in the community. General information and referrals are also provided to any individual calling the program office for assistance. Granted from the Unrestricted Fund.
Center for the Visually Impaired: $30,000 to support the Non-Senior Eye Care Services Program, which provides the full spectrum of professional eye care services including glasses on an ongoing basis for the life and eligibility of the client. Clients under the age of 60 are also provided with low-vision aids for help needed beyond that of their glasses. Granted from the Thomas M. Kier Memorial Fund.
Central Ohio Youth Ballet: $3,247 to support the purchase of ballet-quality marley flooring for The Nutcracker performance at the Midland Theatre, the spring Bravo performances which take place throughout Licking County and surrounding areas, as well as the Community OUTREACH Program. The new flooring is modular and can be customized for use wherever the planned performance or OUTREACH will take place. Granted from the Constance C. Baldwin Fund and the J.P. Shai, II Fund.
City of Newark: $10,350 to support recreational upgrades at Reddington Road Park, located in west Newark between Reddington Road and Cherry Valley Road. Upgrades include new swing sets, an ADA drinking fountain, ADA picnic tables, benches, trash receptacles, an outfield fence, 200 posts, and a concrete walkway from the large parking lot to the shelter house. Granted from the Constance C. Baldwin Fund and the William S. and Sue O. Moore Fund.
Denison University Studio Art Department: $6,000 to support the Billboard Project, aimed at engaging with the Newark and larger community to place art in non-traditional locations; namely by using 12 existing billboards for contemporary art. These billboards would act as a component of the Newark FAM FEST, as well as a site for involvement with local schools, Newark, Denison and Granville community. Granted from the J.P. Shai, II Fund.
Fostering Further: $3,500 to support granting wishes and providing funds for extra-curricular, educational, and therapeutic expenses for children in foster care in central Ohio. This funding will also support expanding this service to include kids in local kinship care (those children who are cared for by a relative or friend of the family). Granted from the Constance C. Baldwin Fund.
Habitat for Humanity MidOhio: $15,000 to support the Homeowner Repair Program in Licking County to stabilize and revitalize low-income neighborhoods by helping low-income homeowners who are affected by age, disability or family circumstances and are struggling to maintain the integrity of their homes. This program focuses on exterior home repair services such as windows, wall repairs, and handicap accessibility issues. Granted from the Unrestricted Fund.
Johnstown United Methodist Church: $20,000 to support the Rockin' Cool Freedom School, a six-week summer enrichment program that helps children fall in love with reading, increases their self-esteem, and generates more positive attitudes toward learning. The program focuses on literacy; teaches children to respect themselves and others; emphasizes children's abilities to make a difference in themselves, their families, their communities and the world; and assists in the leadership development of the young adults who serve as interns. Granted from the Constance C. Baldwin Fund.
Licking County Aging Program: $21,378 to support the Hearing Fund, a program to help low income Licking County senior citizens over the age of 60 obtain hearing enhancement equipment, repairs and replacements. The availability of hearing assistance nationwide for senior citizens is very limited; Medicare does not provide coverage; and Medicaid only covers one hearing aid and is limited to $500 every five years. Granted from the Thomas M. Kier Memorial Fund.
Licking County Coalition for Housing: $25,740 to support Licking County Coordinated Access, which will establish a single point of entry for people and families in Licking County who are homeless or in financial crisis who need quick access to services and support. This project will enable effective, optimal coordination among existing Licking County safety net service providers; agencies will work in a coordinated fashion to quickly assess and address the individual or household's needs, minimizing redundancy of effort and administrative burden. Granted from the Unrestricted Fund.
Licking County Family YMCA: $25,000 to support All for One Camp programs, designed specifically to serve the organization's focus areas of Youth Development, Healthy Living, and Social Responsibility. The program welcomes children with many types of developmental disabilities to participate in a traditional camp environment. This encompasses the YMCA's overall mission to provide activities for all of the children in the community. Granted from the Thomas M. Kier Memorial Fund.
Licking County Health Department: $25,000 to support combined Infant and Childhood Wellness Programming and benefit the health of Licking County's children through the Newborn Home Visitation Program (NHVP), the Child Passenger Safety program (CPS), and the School-Based Dental Sealant program. NHVP's primary objectives are to: ensure that each infant is living in a healthy/safe environment, assist new mothers with the adjustment to parenthood, provide topic-specific education, and provide any necessary community referrals. The CPS program provides an appropriate car seat to families in need, who also receive essential education on safely transporting children. The School-Based Dental Sealant program has been screening and placing sealant on the teeth of Licking County students in second, third, sixth and seventh grades since 1989. Granted from the Constance C. Baldwin Fund, the Marguerite Halpine Heppenstall Fund, and the William E. and Annie S. Miller Memorial Fund.
Licking County Humane Society: $8,000 to support the continuance of the Volunteer & Event Coordinator position to engage the over 1,000 volunteers in the organization's online database and turn them into active participants. This full-time position was filled in February 2016; and now volunteers receive the training, feedback, acknowledgement, and support that they need to develop into successful members of the team to meet the direct care needs of 1,300+ animals per year. Granted from the Unrestricted Fund.
Licking County Players, Inc.: $10,030 to support lighting improvements outside the theater, including replacing several existing light fixtures on the building with LED lighting and adding LED light fixtures to provide more adequate lighting of the parking lot, advertising sign, new stage door area, and other areas around the theater. Granted from the Fred B. Wollins Memorial Fund and the Unrestricted Fund.
Licking/Knox Goodwill Industries, Inc.: $10,000 to support the GoodGuides Youth Mentoring Program, which currently provides services in Wilson Middle School, Heritage Middle School, Newark High School, and Newark Digital Academy. Youth participate in mentoring sessions to discuss relevant issues and participate in activities that enhance life skills and socialization to keep youth in school, improve grades and behaviors, and build self-esteem. Funding assists with activities to keep youth engaged, as they explore and discuss topics such as defining harassment, bullying, cyber appropriateness, understanding discrimination, victim support, and positive actions. Granted from the Constance C. Baldwin Fund.
Mental Health America of Licking County: $75,000 to support general operating funds to enable the agency to fluidly assist each program based on need. There is great need for all of the programs and support groups offered; and providing these services to the Licking County community free of charge is crucial, because many of the consumers and participants of these programs and support groups live at or below the poverty level. Granted from the William E. and Annie S. Miller Memorial Fund, and the Ernestine and John David Spencer Memorial Fund.
Newark-Granville Symphony Orchestra: $10,000 to support the Educational Outreach program for bringing classical music and music education to students, teachers and community members. The outreach will include master classes, lectures, performances, and side by side concerts in collaboration with area public schools, universities, and Kendal at Granville. Granted from the Constance C. Baldwin Fund and the John Tegtmeyer Memorial Fund.
Newark Midland Theatre Association: $27,000 to support the Arts for All: Yellow Bus and Human Services program, a compilation of arts and cultural events that engage young people and families, including individuals who are striving to improve their life situations. Partnering with schools and social service agencies in Licking County, the Midland opens doors and opportunities to approximately 5,000 students and teachers K-6 in the Yellow Bus Series, nearly 1,000 individuals through Human Services, and approximately 1,100 through community engagement programs. Granted from the Constance C. Baldwin Fund and the Daniel and Sharon Stricker Fund.
Ohio State Legal Services Association (Southeastern Ohio Legal Services / Newark Office): $25,000 to support the Children's Legal Assistance Project for providing legal help for families of children (ages 3 to 18), including children with learning and other disabilities that may have been a barrier to their success in school and that may have put them at risk of being placed in the juvenile justice system. Program also supports testing and Individualized Education Plans for children with diagnosed disabilities, advocacy on behalf of families and children, and partnerships with other organizations to get children the help they need to be successful in school. Granted from the William E. and Annie S. Miller Memorial Fund.
Pataskala Recreation Association: $7,500 to support Phase Two of LEADS Park Renovation and Improvement. Adjacent to the LEADS building on the west side of Pataskala, the organization has adopted the park and is currently performing topography, dirt work, excavation and land management repair on the park diamonds and open (future soccer) areas. Future plans include two parking areas to parallel the east and west sides of the park. Once completed, the park would include two baseball/softball fields, two soccer fields, a revitalized basketball court, and a shelter house. Granted from the Constance C. Baldwin Fund.
Pathways of Central Ohio: $8,808 to support the 2-1-1/Crisis Hotline Marketing Project, which will inform Licking County of 2-1-1 and the new two-way texting service (beginning in late 2016). The 2-1-1/Crisis Hotline provides 24/7 comprehensive information and referral, crisis hotline, suicide prevention, disaster response, and recovery line services to residents of Licking County. The 2-1-1/Crisis Hotline is available 24/7/365; and two staff are on duty at all times. The Hotline also plays a role in local disaster response by taking non-emergency calls. This frees up 9-1-1 and the EMA to handle the disaster. Granted from the Unrestricted Fund.
Ronald McDonald House Charities of Central Ohio: $10,000 to support the 2017 Helping Hands Program for families from Licking County. When families have a critically-ill child in the hospital, an important factor in their successful healing is having family close by for support. Family presence during health care procedures decreases anxiety for the child and the parents. Research indicates that when parents are prepared, they do not prolong the procedures or make the provider more anxious. Granted from the Alice McFadden and Jack Barnett Fund and the Unrestricted Fund.
The Salvation Army: $55,000 to support the operations of the only emergency homeless shelter within Licking County that meets the needs of single men, women, and families who are homeless and living in the local area. This is also the only Licking County shelter that accepts families and women who are not involved in a domestic violence situation. The shelter is able to keep the family unit intact during their crisis and is able to minimize the trauma and stress of an already difficult situation. Shelter is provided on a short-term basis, up to 90 days, and includes supportive services that meet basic physical needs for food, shelter, clothing, and hygiene items. Shelter staff coordinates with area social service agencies to seek help for the clients. Granted from the Unrestricted Fund.
St. Vincent de Paul Housing Facilities: $25,000 to support case management services provided at St. Vincent Haven, a 26-bed emergency shelter program for males 18 and older who are homeless in Licking County. Case managers provide the supportive services assisting residents to work toward self-sufficiency and permanent housing. Residents meet with case managers regularly to monitor and revise goals/action steps as indicated, including developing life skills such as financial and household management. Granted from the Unrestricted Fund.
The Woodlands Serving Central Ohio, Inc.: $25,000 to support the Child Advocate position for providing services to all residents who have or bring children to The Center for New Beginnings. The Child Advocate meets with the parent and child to assess any needs that the child may have, including school enrollment, assistance with school clothing, transportation, school supplies or special needs programming and/or screening for the child. Other parent assistance also includes locating day care option, linkage to support for mental health and/or drug and alcohol issues, help with behavior plans, and education on multiple parenting issues. Granted from the William E. and Annie S. Miller Memorial Fund.
Wyatt Adkins Heart Organization: $63,228 to support the building of a Community Park that offers a unique all-in-one facility to uphold the spirit of all children at play and bring all ages of the community together. Funds will be used to develop features of the park to make it accesible to all. The Community Park will be open to the public and is envisioned as a free, open-access site for families. It would also be the only multi-dimensional facility east of Newark. Granted from the Thomas M. Kier Memorial Fund.
Please Note: The Unrestricted Fund is comprised of grants from the following funds which were created by donors to allow the Foundation flexibility in addressing the community's most urgent needs and emerging opportunities: H.E. (Roy) Alban and Jane Alban Fund, Thomas L. Brooke Fund, Katherine B. Camlin Memorial Fund, Robert and Nancy Dix Fund, Evans Memorial Fund, Feightner Family Fund, Ralph E. Fitch Memorial Fund, Robert H. Flory and Sylvia Sinsabaugh Fund, Willliam E. and Alma B. Harold Fund, Licking County Foundation Unrestricted Fund, Lindorf-Warner Memorial Fund (donor advised grant), McConnell Fund (donor advised grant), Tittica Roberts Mitchell Fund, Wayne L. Roelof Memorial Fund, Roger Roth Memorial Fund, William Doubet Schaffner Fund, Cecil Sebold Memorial Fund, Howard H. Thompson, Jr. Fund, Lula Vaia Memorial Fund, and WCLT Community Fund. Support was also provided from the McConnell Fund and the Lindorf-Warner Memorial Fund.
Designated Agency & Agency Fund Grants
The Licking County Foundation approved grants totaling $744,817 to 45 nonprofit organizations to support their operations, specific projects or programs from designated agency funds and agency funds. These funds were created by caring donors to provide an annual source of revenue to support the good works of a specific nonprofit agency, educational institution, faith-based organization or other tax exempt charitable entity. The grants were distributed to the following organizations:
• A Call To College
• A Special Wish Foundation - Newark Chapter
• Behavioral Healthcare Partners of Central Ohio, Inc.
• Big Brothers Big Sisters of Licking & Perry Counties
• Bishop Flaget School
• Camp O'Bannon of Licking County, Inc.
• Central Christian Church
• Central Ohio Techincal College
• Croton Church of Christ
• Croton United Methodist Church
• The Dawes Arboretum
• First United Methodist Church
• Foundation for Hospice of Central Ohio
• Hartford Library Association
• Lakewood Local Schools
• Licking County Alcoholism Prevention Program
• Licking County Coalition of Care
• Licking County Family YMCA
• Licking County Foundation
• Licking County Historical Society
• Licking County Humane Society
• Licking Memorial Hospital
• Marshall University Foundation, Inc.
• Mental Health America of Licking County, Inc.
• Nationwide Children's Hospital
• Navy-Marine Corps Relief Society
• New Lexington United Methodist Church
• Newark Catholic High School
• Newark City Schools
• Newark-Granville Symphony Orchestra
• Newark Midland Theatre Association
• Newark Sport and Event Commission
• North Fork Local School District
• Ohio University Southern
• Par Excellence Academy
• Phi Delta Theta Foundation
• Salvation Army
• Second Presbyterian Church
• Simon Kenton Council, Boy Scouts of America
• St. Francis de Sales School
• Trinity Episcopal Church
• Tuberous Sclerosis Alliance
• United Way of Licking County Ohio
• The Woodlands Serving Central Ohio, Inc.
• The Works: Ohio Center for History, Art & Technology
• Village of Hebron
Please Note: The above nonprofits received grants from the following funds which were created by donors to provide permanent, continuous support to their organizations or programs: Albright-Rieder Fund for Bishop Flaget School Scholarships, Alford Family Ice Sports Fund, CARE Fund, Pam DeVaul "Giving Back" Fund, Elias and Bertha Edwards Fund, Clarence W. and Grace Marie Feil Fund, Patti Guanciale Fund, John Garlinger Hazlett Fund, Dr. Henry Lynn Hook Fund, "I Need" Principal's Fund, Mary A. Irvine Fund, Darrell S. Jones Fund, Licking County Historical Society Fund, Licking County Independent Insurance Agents Designated Agency Endowment Fund, Robert and Grace Luikart Fund, Jerry and Selma Markowitz Fund, Selma Markowitz Fund, McConnell Fund, Louis A. Mitchell Fund, J. L. Phillips / Newark Kiwanis Club Endowment Fund, Betty and Tom Powell Fund, Kathleen Reed Memorial Fund, David E. Reese Endowment Fund, Reese Evans Midland Theatre Endowment Fund, Reese Evans The Works Endowment Fund, Marian S. Rogers Endowment Fund, John A. and Dorothy E. Ruff Fund, Katharyn Wickham Shannon and Ora C. Shannon Memorial Fund, Treble Clef Fund and Lois Ferne Tucker Fund.
About Establishing Charitable Funds
Anyone can be a donor; and supporting the organizations, causes or community needs that are most important to you is easy. If you wish to learn more about establishing a charitable fund or making a gift, please contact Connie Hawk at 740.349.3863, x105 or connie@thelcfoundation.org.
About the Licking County Foundation…Investing in Our Home
The Licking County Foundation helps people leave a lasting legacy to the community. We are many causes and generous donors with one common desire: to improve the lives of the people in our own backyard. Established over 60 years ago, the Foundation has grown to more than $90 million in assets through generations of gifts made by compassionate donors. Investing in our home has changed the lives of countless people by providing resources to a neighbor in need, helping a student achieve their dream of college, enhancing the beauty of our parks, supplying books to encourage an early love of reading, and much more. To find out how we can help turn your compassion into action: 740-349-3863 or visit www.thelcfoundation.org.