The Licking County Bar Association Establishes Scholarship Fund To Assist Students Pursuing Law Degrees
Posted on 12/20/2016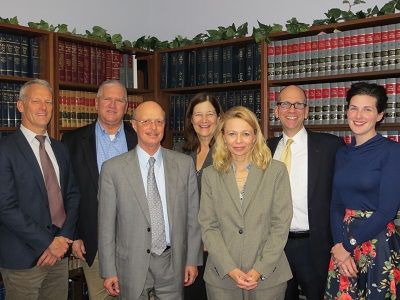 Licking County Bar Association Board Members (left to right): back row - Judge David Branstool, Douglas Sassen, Kristen Burkett, Judge Duke Frost, Sheena Sjostrand-Post; front row – David Skrobot, Laurie Wells
The Licking County Bar Association recently established a scholarship fund through the Licking County Foundation for local students who intend to pursue a career in law. The Licking County Bar Association Scholarship Fund was established in September of 2016 with the purpose of awarding two scholarships annually, each in the amount of $1,000, to Licking County residents or graduates of a Licking County high school who are pursuing higher education and to those pursuing a law degree at an accredited college or university.
The Licking County Bar Association is a nonprofit organization comprised of over 200 attorneys from Licking County and central Ohio, that seeks to uphold high standards of integrity in the legal profession; to facilitate the fair administration of justice; to encourage active leadership in the resolution of public issues; to assist in the delivery of legal services to the indigent; and to cultivate a spirit of professionalism and good fellowship among its members.
We recently interviewed the Licking County Bar Association about their decision to establish this generous scholarship fund:
Q: Why did the LCBA decide to establish a charitable fund at the LCF?
A: For nearly sixty years, the Licking County Foundation has been dedicated to the improvement of our community through philanthropic efforts. The LCF has proven experience and expertise in fairly and competently awarding scholarships to deserving recipients. For these reasons, when the LCBA sought to establish a charitable fund the LCF was an obvious choice.
Q: What about providing scholarship support resonates with the LCBA?
A: The Licking County Bar Association believes that an educated community is the cornerstone of a fair and equitable legal system. Our members come from various socioeconomic backgrounds. Many of us have a uniquely personal understanding of how financial constraints can impact educational choices. Providing scholarship support allows us to make the pursuit of higher education a little easier for the youth in our community.
Q: What are your hopes for the recipients of the LCBA scholarship?
A: We hope that the scholarship provides recipients with additional encouragement to achieve their educational goals. Moreover, we hope the recipients gain inspiration and confidence through the LCBA's public acknowledgement of their future potential.
Q: What inspires you about this community?
A: Licking County is the increasingly rare sort of community that is vibrant and growing, but retains the friendly environment of a small town. It is a place where you can explore a variety of exciting educational and employment opportunities without sacrificing family. It is a place where you can feel good about investing in the community's future.
You can apply for the Licking County Bar Association Scholarship and any scholarship offered by the Licking County Foundation by visiting www.lcfoundation.org/scholarships to begin an application. The deadline to submit all scholarship applications is January 20, 2017 at 5 p.m.