There's an airplane inside The Works! (…and 10 other things we learned from Community Conversations)
Posted on 09/28/2016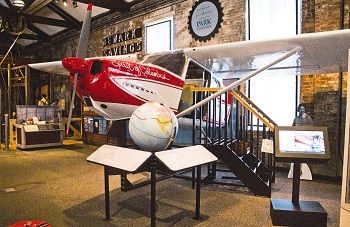 Note: Community Conversations are in-person, group discussions between Licking County Foundation and our grant partners that serve as each grantee's mid-year report and build awareness/new partnerships among the grantees. The facts below are from recent meetings with our 2016 Community Grant recipients.
1. Tremendous efforts are being made across Licking County to make sure children, families, and other individuals are able to meet their basic and emergency needs of food, clothing, and shelter.
2. Licking County is home to MANY recently-improved recreational parks that are free to use, including three City of Newark parks, Newark Rotary Park (fully wheelchair-accessible, which also makes it easy for people using walkers, strollers, etc.), and Miller Park in Utica (entirely ADA-compliant).
3. There are six drop-off locations in the county for donations of dry cat and dog food, which is delivered to Licking County seniors with pets through the Meals on Wheels program. In its first month, 515 pounds of food for seniors' pets were delivered!
4. Quality health, dental, and vision care is available for low-income individuals through the Community Health Clinic (adults), Look Up Dental Clinic (adults) and Licking Memorial Dental Clinic for Children (uninsured children), and the Center for the Visually Impaired (birth - age 59).
5. Licking County is home to the first-of-its-kind-in-the-Midwest, Library-In-A-Box, providing 24/7 public library services. Check-out, reserve, return materials – the box is connected with 91 other libraries, so patrons have access to over eight million items through this new resource. Located on COTC's Pataskala campus.
6. The Midland Theatre provides multiple music and theater arts-enrichment opportunities during the school year to Licking County students, who may also attend Magic Camp in the summer.
7. Donations of yarn and material are turned into hundreds of handmade items by volunteers for premature and newborn babies by the dedicated volunteers of the Newborns In Need Greater Newark Chapter.
8. Legal support and services are available for families with children (ages 3-18), particularly children's education-related issues through the Southeastern Ohio Legal Services office located in downtown Newark.
9. Family members of individuals who commit suicide are at greater risk for also committing suicide. FREE suicide prevention training, called Mental Health First Aid, is available through Mental Health America of Licking County.
10. Children ages six months to five years receive a new book at every well-child checkup with Licking County pediatricians, along with tips and advice for how to incorporate reading with children into a daily routine thanks to The Children's Reading Foundation.
Thank you to all of our 2016 Community Granter partners for taking the time to gather with us and share your work!