Sullivan Building Update: Basement Construction September 26, 2016
Posted on 09/26/2016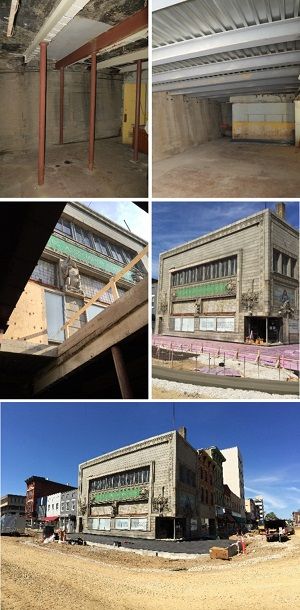 We thought you'd be interested in an update on the Sullivan Building's basement rehabilitation and the planning for its restoration and use as our community's tourism hub—plus some recent construction photos.
You'll see that significant progress has been made! Possibly the most dramatic difference is the basement's wide open spaces with new steel beams and metal ceiling.
Here are some of this summer's construction highlights:
• All of the old sidewalks were removed in July—revealing many views of the building not seen for over 100 years!
• New structural steel beams were placed in the basement in August
• Then metal decking was installed on top of the steel beams
• Structural concrete slab was poured over that layer right before Labor Day
• Installed a waterproofing membrane (see the photo above with the gray layer)
• Added 7" of rigid insulation (see the photo above with the pink layer)
• All will be topped with the final "icing"—4" of concrete sidewalk
• On schedule for completing the basement construction project by the end of September
Plans for our community's new visitors/welcome center are starting to take shape.
• Architectural programming process in partnership with Explore Licking County is complete
• Conceptual design development is well underway
• On schedule for having the final conceptual design,
a cost estimate for the full restoration, and a construction schedule complete by mid-November 2016
Fundraising continues for the basement rehabilitation and restoration/tourism center planning phase of the project.
• Current budget is $683,289; raised $636,750 to date (secured and pledged); $46,539 to go
Many, many thanks for your continued interest in this inspiring and important project! We've come a long way…but the real fun has just begun!
With Warm Regards,
Connie Hawk &
Team Sullivan