Mike Johnson McDonalds Scholarship Carries On Legacy
Posted on 09/02/2016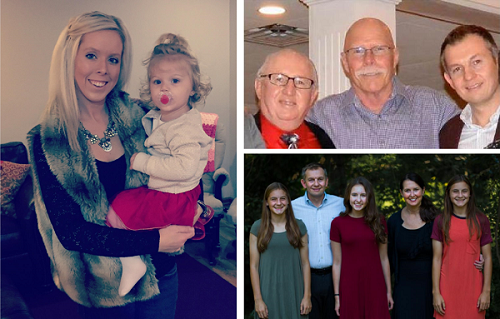 "Always do the right thing because it's the right thing to do"- Mike Johnson
One of the newest scholarship funds established at the Licking County Foundation is the Mike Johnson McDonald's Scholarship Fund. This fund was established by Janine and Brian Mortellaro in memory of James Michael "Mike" Johnson. Mike was employed as the Physical Plant Supervisor at Mortellaro McDonald's for more than 20 years. Mike passed away unexpectedly in May 2015. He was highly mechanically inclined and will be remembered for his ability to repair anything. He was a dedicated employee who was on call 24/7. He was always willing to share his knowledge of mechanical and electrical systems with his friends and family and was a wonderful teacher. Mike had the reputation of being the best repairman in the state of Ohio. The scholarship is also in honor of Mike's wife and two daughters, who are all nurses.
This scholarship was created in order to provide assistance for students pursuing higher education in the skilled trades, mechanical engineering, and nursing. Brian and Janine said that they have struggled to replace Mike after his death because so few young people are studying the skilled trades and engineering in school. They hope that this scholarship will provide opportunities for students in the Licking County area who, like Mike and his family, have a passion for fixing things and helping people. It was important for the recipient of this scholarship to be involved in volunteer or extracurricular activities or to have work experience. The Mortellaro's wanted the student who received this scholarship to be a well-rounded individual who gives back to the community, as Mike generously did.
The Mike Johnson McDonald's Scholarship was awarded for the first time this year to Erika Stout. Erika is a 26 year old single mother who is currently pursuing a nursing degree at COTC. Erika is a 2008 graduate of Granville High School and a 2012 graduate of Ohio State University. After receiving her degree in Communications and working in the Public Relations field for a few years, she decided that the "desk life" wasn't for her and decided to go back to school. She has always been passionate about helping others and decided to pursue an education in nursing. Erika works full time to support her daughter while taking classes. She is working toward her BSN and hopes to graduate in December 2017 and work in the trauma center at Grant Hospital. She wants to one day become a nurse practitioner.
Mike and Janine hope that this scholarship will honor the memory of Mike Johnson and that he will always be remembered, both by his close friends and the students who receive this scholarship. Mike's legacy of learning and giving lives on through this scholarship. When asked if she had anything to say to the Mortellaro's Erika said, "Thank you so much for the opportunity and I hope to honor his memory to the best of my ability and make both of you proud."
Pictured Above Left: Erika Stout with her daughter, Henley; Top Right: Joe Mortellaro, Mike Johnson, Brian Mortellaro; Bottom Right: Brian and Janine Mortellaro with their daughters Emma, Abby and Sarah