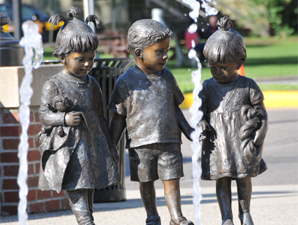 In This Section
Stories
NEW FUNDS
Licking County Foundation's donors come from every walk of life…every generation…and their interests are as varied as the people they wish to serve. Yet each of our donors has something in common—an unmistakable desire to improve their community. We are truly grateful to the individuals, families and organizations that have recently established these charitable funds:
2015
Grow Licking County Workforce Development Fund
An agency fund established by the Board of Directors of Grow Licking County Community Improvement Corp to increase awareness of the benefits of pursuing careers in manufacturing and the skilled trades in Licking County, and to provide scholarships and funding support for education and training programs which create employment opportunities in manufacturing and the skilled trades for Licking County residents.
Utica Village Miller Park Fund
A project fund established by the Utica Parks and Recreation Improvement Committee for the purpose of raising funds to support the Miller Park renovation project in Utica, Ohio which includes the installation of playground equipment and a basketball court to provide a safe place for children to play and exercise.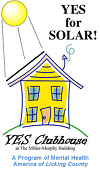 YES for Solar! Fund
A project fund established by the Licking County Solar Cooperative and the Licking County Concerned Citizens for Public Health and the Environment for the purpose of raising funds for a solar installation on the roof of the YES Club building in downtown Newark, Ohio.  The YES Club, a program of Mental Health America of Licking County, provides a safe haven and educational, wellness and developmental support for local youth ages 11 to 18 after school and during the summer.  The goal of the YES for Solar! project is to offset as much of the electricity cost at the YES Club as possible through the installation of a solar array along with educational programs about solar energy, conservation, and the environment.
Vist the Concerned Citizens YES for Solar! webpage for project updates!
2014
Constance C. Baldwin Fund
A field of interest fund established through a bequest from the estate of Constance C. Baldwin to provide opportunities and assistance to benefit and support children physically, educationally and culturally and to provide them with the means for recreation.  Mrs. Baldwin, who died in 2014, was inspired by her father, Dr. F. E. Corkwell, to give back:  When she asked him, "How can I thank you for all the things you've done for me?"  He replied, "You can't, you can only do for others."  A graduate of The Ohio State University, Connie Baldwin received a Bachelor of Arts degree in Education and was employed as a teacher with Newark City Schools for 21 years. She taught 3rd and 5th grade at Cherry Valley Elementary School, and later taught junior high school special education.  A 2010 Everett D. Reese Award honoree, Mrs. Baldwin's philanthropic focus was always on youth and education.  She supported many local organizations and causes and enjoyed playing bridge and gardening. 
Canal Market District Fund
A project fund established by the Thomas J. Evans Foundation for the purpose of constructing the Canal Market District in downtown Newark's south side. The centerpiece of the district will be the Canal Market Plaza, three separate structures forming an open-air market on what is now a gravel parking lot bordered by Canal, Market, Second and Third Streets.  The project includes improvements to the adjacent Second Street Parking Garage, burial of overhead power lines, and a brick walkway from the Licking County Courthouse through the market to the Pennsylvania Railroad Station on Walnut Street—plus new gazebos, a public rest room and a green space.
Dr. Henry Lynn Hook Fund
A designated agency fund established through a bequest from the estate of Dr. Henry Lynn Hook to provide ongoing support for the organizations and causes he cared about most:  the Respiratory Therapy Department of Licking Memorial Hospital, the Herman S. Bauman Scouting Achievement Award, the Central Christian Church in Newark, the Licking County Humane Society, Licking County Alcoholics Anonymous, Licking County Foundation Unrestricted Fund, the United Way of Licking County, the Dr. Henry Lynn Hook Medical Scholarship Award, the National Tuberous Sclerosis Society, The Salvation Army, the Licking County Historical Society, the Navy-Marine Corps Relief Society, The Works, and Hospice of Central Ohio.  Dr. Hook, who died in 2014, was born in Beaumont, Texas to Harry and Mabel Hook.  The family moved to Newark in 1931.  He graduated from Newark High School in 1942 and from the College of Medicine at The Ohio State University in 1948.  In 1963, he returned to Newark to help in the development of the new Licking Memorial Hospital, and was the director of the pulmonary and respiratory there from 1966 until his retirement in 1989. 
Licking County Courthouse Lighting Fund
An agency fund established by the Licking County Courthouse Lighting Committee to provide an ongoing source of income to support the annual holiday lighting of the Licking County Courthouse and surrounding Courthouse Square, which may include design, purchase, installation, removal and seasonal storage of holiday decorations and materials; and community and media communications, fundraising and lighting ceremony production.  Since 1949, the annual lighting of the Licking County Courthouse has officially kicked off the holiday season, and this fund will ensure this treasured tradition will carry on for many generations to come. 
Licking County Veterans Memorial and Education Center Fund
An agency fund established by the Board of Directors of the Licking County Veterans Memorial and Education Center for general support of the organization's mission which is to acknowledge, commemorate, and affirm the role played by Licking County Ohio veterans in America's military past by means of developing instructive exhibits and other educational programs, constructing and maintaining a memorial wall, and insuring that no veteran that gave their life will ever be forgotten. 
Tittica Roberts Mitchell Fund
An unrestricted fund established through a bequest from the estate of Tittica "Tica" Roberts Mitchell to address the community's most urgent needs and emerging opportunities.  Mrs. Mitchell, who died in 2014, loved the arts all of her life, both visual and performing.  Her career was devoted to managing artists in the music and fine arts industry.  She worked closely with many of the leading classical musicians of the time, represented one of the most important touring vocal ensembles, and many symphony conductors were in her orbit.  She was born in Newark to the late Joyce K. and Al V. Roberts, graduated from Newark High School, and earned a Bachelors Degree from The Ohio State University.  She was married to William A. Mitchell who died in 2009.  She resided in New York City for two decades; and then returned to Central Ohio, settled in German Village, and became active in Columbus life. 
Susan and Jerry Reid Fund
A donor advised fund established by Susan Reid, in memory of her husband, Jerry Reid, to support the charitable organizations and causes most important to the Reid family. Susan and Jerry were married for 38 years until his death on October 3, 2013.  Jerry was a graduate of New Lexington High School and The Ohio State University; and Susan is a graduate of Newark High School, Ohio University, and Kent State University.  Jerry retired from Rockwell International as the Supervisor of Traffic. Susan began her career as a teacher; and retired from Heath City Schools as a librarian where she was responsible for opening three school libraries. The couple shared a love of golf, traveling, their cat, Toby; and they cared deeply about supporting the community's nonprofit organizations.
Ross Moran Family Nursing Scholarship Fund
A scholarship fund established through a bequest from the estate of Vinetta "Vi" A. Moran Battat to assist Licking County residents who are pursuing a degree in nursing at an accredited college, university, vocational/technical school or other post-secondary institution.  Mrs. Battat, who died in 2014, was employed as a registered nurse for over 28 years in Dr. Mannino's office.  She also worked at the Newark Health Care Centre and in private duty care.  She was a member of the Perryton Historical Society, the Licking County Historical Society, and the Licking County Genealogy Society where she served as its first president in 1972.  She was an avid cat lover and enjoyed bird watching.  She was very talented in needle crafts.  Mrs. Battat was preceded in death by her husband, Robert Battat, who owned the Walker & Battat Ford dealership in Newark.  As a high school senior, Mrs. Battat decided to become a nurse when the head nurse from Newark Hospital came to her school to recruit students. 
Lois Ferne Tucker Fund
A designated agency fund established through the estate of Lois Ferne Sutton Tucker to provide ongoing support to Newark City School District for the purpose of scholarships for any type of advanced education beyond high school for any graduates(s) of the Newark, Ohio public school system. Scholarship recipient selection shall be made by the Newark School District Scholarship Committee. The scholarship awards shall be made in the name of the Lois Ferne Tucker Memorial Scholarship.  Ms. Tucker, who died in 1994 in North Plainfield, New Jersey, was a teacher in Newark City Schools.
Welsh Hills School Fund
An agency fund established by the Board of Trustees of the Welsh Hills School for general support, including scholarships, programs and operating expenses. The organization strives to provide a dynamic educational program that combines the best of a challenging curriculum and a nurturing environment. In partnering with families and focusing on the whole person, their program creates respectful global citizens and confident, life-long learners.  Above all else, Welsh Hills School embraces the idea that children should be encouraged to explore many different educational paths and embrace many different educational experiences, all with the goal of helping them to unlock and fulfill their human potential.
Licking County Foundation is truly honored to carry out the charitable wishes of our donors now and into perpetuity. Thank you for your care and compassion